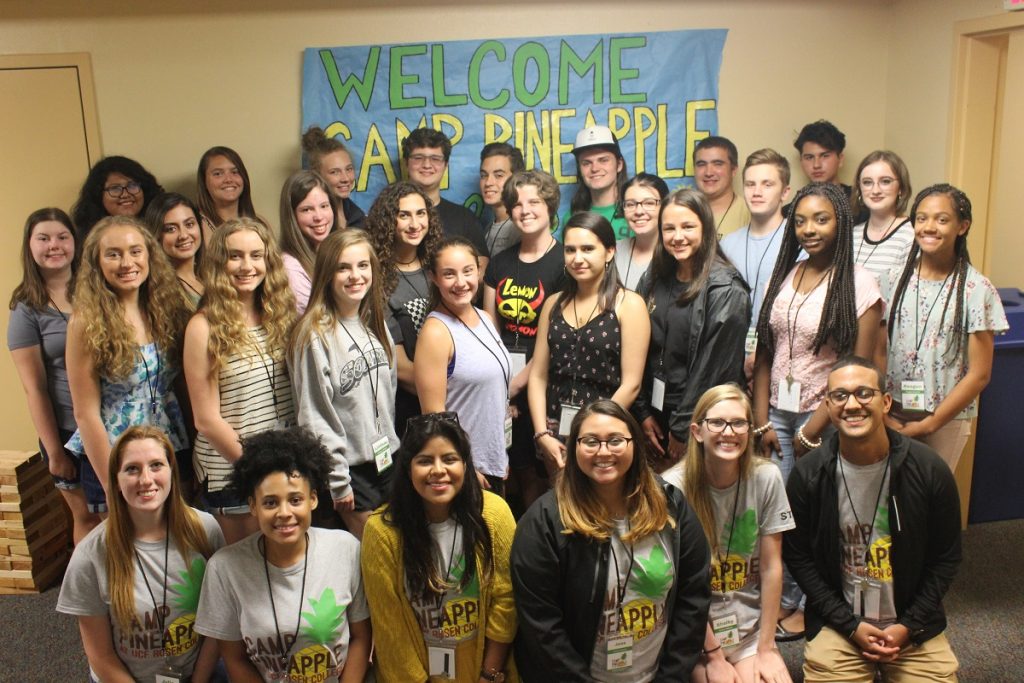 CAMP PINEAPPLE Summer Camp was launched in the summer of 2018 to teach high school students, who have completed freshman, sophomore and junior courses, about careers in the hospitality and tourism industry.  CAMP PINEAPPLE offers an exciting overview of current and emerging career opportunities in the hospitality and restaurant and food service industry.  Campers attended this week long, overnight camp, to learn about the hospitality industry firsthand by touring some of Orlando's top hospitality destinations.  They meet with leading industry executives to learn more about the variety of career possibilities in hospitality, in culinary labs with our Chef Instructors in our state-of-the-art food labs.  Campers  benefit from expert faculty, staff, current students and alumni through presentations, panels, and activities.
Camp Pineapple Staff 2018
Julie Wehmeyer, Student Director
Shelby Williams, Assistant Student Director
Citali Mendoza, Camp Counselor
Starr Millwood, Camp Counselor
Sebastian Sanatana, Camp Counselor
Jessica Waites, Camp Counselor
In the summer of 2018, Industry partners provided site visits and industry exploration opportunities for our Camp Pineapple campers. From local start-ups to international brands, campers will learn about the hospitality industry from the experts. Take a few minutes to learn about each of the partners for Camp Pineapple 2018.
Site Visit Partners
4 Rivers
John Rivers never set out to create the most successful BBQ chain in Florida. 4 Rivers Smokehouse is an amazing barbeque place that began as a "Barbecue Ministry" in 2004, when the founder, John Rivers, hosted a cookout fundraiser for a local family whose daughter was battling cancer. That one event sparked a passion for supporting local organizations, schools, and churches. In 2009, the first 4Rivers restaurant opened in Winter Park, Florida, and now boasts 13 locations in Florida and an expansion into Georgia. Mr. Rivers and his team have had two invitations to cook at the prestigious James Beard House in NYC and four invitations to present at the Food Network South Beach Wine and Food Festival. John Rivers has also made appearances on NBC and Fox morning shows and he's been recognized by USA Today, Paula Dean Magazine, Food Magazine, Cooking Light, Food and Wine, Cigar Aficionado, Restaurant Business and TravelandLeisure.com.
Centerplate
Centerplate is a hospitality services company located in the United Kingdom and North America that partners with more than 300 premier event venues to create one of a kind food and beverage experience for their clients. Global Meeting Destination's Convene Magazine named Centerplate "Best Food and Beverage" and Stadium Journey awarded #1 NFL Experience and #1 College Football Experience to the company. Centerplate is the exclusive provider of food and beverages for the Orange County Convention Center. For more than 80 years, Centerplate has been providing exceptional service and one-of-a-kind food and beverage experiences in Canada, the United States and the United Kingdom.
I-Drive NASCAR
I-Drive NASCAR is a dynamic Family Entertainment Center featuring a high speed indoor climate controlled karting track, over 50 interactive Arcade games, professional regulation billiards tables, a restaurant and full bar.  I-Drive NASCAR also offers nearly 5,000 sq.ft of versatile private event space equipped with innovative audiovisual technology that can provide the perfect setting for Corporate Meetings, Team Building activities, large family functions and STEM based field trips.
Marriot World Center
The Orlando World Center Marriott is the largest Marriott property in the world. This beautiful property is not only a great place for vacationing guests but also for world class meetings, conventions, and social events. Successful events take place here with 450,000 square feet of flexible event space located all over the property combined with award-winning service and Marriott's signature Red Coats make it an event to remember.
Puff 'n Stuff Catering
Puff 'n Stuff Catering started as Puff 'n Stuff pastry shop in San Fernando, Trinidad in 1971. Warren Dietel bought the business from his parents in 2003, expanded from Orlando to the West coast of Florida, and changed the name to Puff 'n Stuff Catering.
Puff 'n Stuff Catering is recognized as a national leader in the catering industry. For more than 30 years Puff 'n Stuff has been Passionately Perfecting Life's Celebrations, helping thousands of clients bring their special events to life with the same attention to detail for 20 or 2,000 guests. With locations in Orlando and Tampa, the company is prepared to make each event a success. They are founding members of the invitation-only Leading Caterers of America for their high standards of excellence in catering and hospitality. Puff n' Stuff sets the standard for catering companies and caterers the best events in Central Florida with creative cuisine and superior service.
Red Lobster
Famous for their Cheddar Bay Biscuits, Red Lobster was established by Bill Darden in 1968 when he opened the first Red Lobster in Lakeland, Florida. He was passionate about making delicious, high-quality seafood and he wanted to make seafood available and affordable to everyone, even people who didn't live near the coast. Originally a Darden Restaurant brand, Red
Lobster became and independent restaurant company when it was sold by Darden in 2014. In recent years this iconic brand has created a simple strategy – Great Seafood, Great People and Great Results. Red Lobster is the world's largest seafood restaurant company with more than 55,000 employees and over 700 restaurants throughout the world.
Topgolf
Topgolf is really entertainment with a little golf thrown into the mix. Guests can be seen socializing in the bays, enjoying good food and drinks, and occasionally swinging a golf club at this unique venue with 41 locations in the United Kingdom and the United States.
Topgolf started in 2000, when the Jolliffe brothers wanted a place where they could practice their golf swings and have a good time. They envisioned players hitting a microchipped golf balls at targets into the field. The technology tracks the balls and keeps score of each player's shot. No need to keep score, the technology will take care of that. No need to know the rules, this is for fun and you don't have to be an expert. It's a driving range that doubles as a social gathering place. Topgolf opened in Orlando in 2017 and the balls have been flying ever since.
Supporting Partners
Barteca
Barteca creates vibrant, stylish, and affordable restaurant concepts that focus on an impressive food and beverage program and excellent customer service. Led by CEO Jeff Carcara and founded by Andy Pforzheimer and Sasa Mahr-Batuz, since 1996, Barcelona Wine Bar & Restaurant has been entertaining diners with flavorful small plates, daring design, and a welcoming atmosphere. The bartaco concept, first introduced in 2010, is inspired by outdoor cultures from around the world, and is dedicated to serving upscale street food with a coastal vibe in a relaxed environment. For more information, please visit barcelonawinebar.com and bartaco.com.
Chick-fil-A
Chick-fil-A was founded in Hapeville, Georgia by Truett Cathy and now is the largest chicken quick-service restaurant chain in America, with over 2,200 locations throughout the United States. Each Chick-fil-A location is independently owned and operated. When selecting restaurant operators, Chick-fil-A looks for "hands-on" leaders that work full-time in the restaurant. Restaurants can be located in malls, a free-standing unit, drive-thru only or an in-line location.
Chick-fil-A is closed on Sundays so that employees get a day of rest and time with their families. The restaurant company also gives back in numerous ways including college scholarships for their employees to encourage them to reach their goals and further their education.
First Watch
First Watch is a daytime café that uses the freshest and finest ingredients. In 1983, when there wasn't a big breakfast focused restaurant category, First Watch opened in Pacific Grove, CA, from 7:00 a.m. to 2:30 p.m. Word about this "fresh, new concept" spread and the daytime café became really popular. Now there are more than 250 First Watch restaurants throughout the country. Their service philosophy is doing whatever it takes to make your visit memorable and to keep you coming back for more.
Mears Transportation
Mears Transportation is the Official Transportation partner of Camp Pineapple. In 1939, Paul Mears, Sr. wanted to start a successful business and he knew that providing great customer service would make that happen. So he bought three taxicabs and built his business around respect, integrity, safety, enthusiasm and efficiency. The company now owns three taxi service companies with over 600 taxicabs in the greater Orlando area.
In 1983, Paul Mears saw the opportunity to expand into the shuttle business. With the purchase of 19 vans, Mears became the Orlando International Airport concessionaire. Five years later, Mears Transportation expanded into the Luxury Vehicle and Motor Coach business. Their 70 shuttle vans, 300 luxury vehicles and 220 motor coaches can be seen in Central Florida every day transporting thousands of riders while they are in the area. A family owned business, the third generation of Mears family members run the business today with the same commitment to excellent customer services and quality they've been known for since 1939.
Publix
Publix has grown from a single grocery store into the largest employee-owned grocery chain in the United States. Started by George Jenkins in 1930, Publix has always been about putting people first. George's philosophy was to treat employees and customers like family. The grocery store's employees have been trained to put the customers first. As a result, they have been named the number one supermarket year after year for customer satisfaction.
Today, Publix has more than 1,100 supermarkets. The values and philosophies that George Jenkins established are still in place to this day and serve as their mission to be the premier quality food retailer in the world.