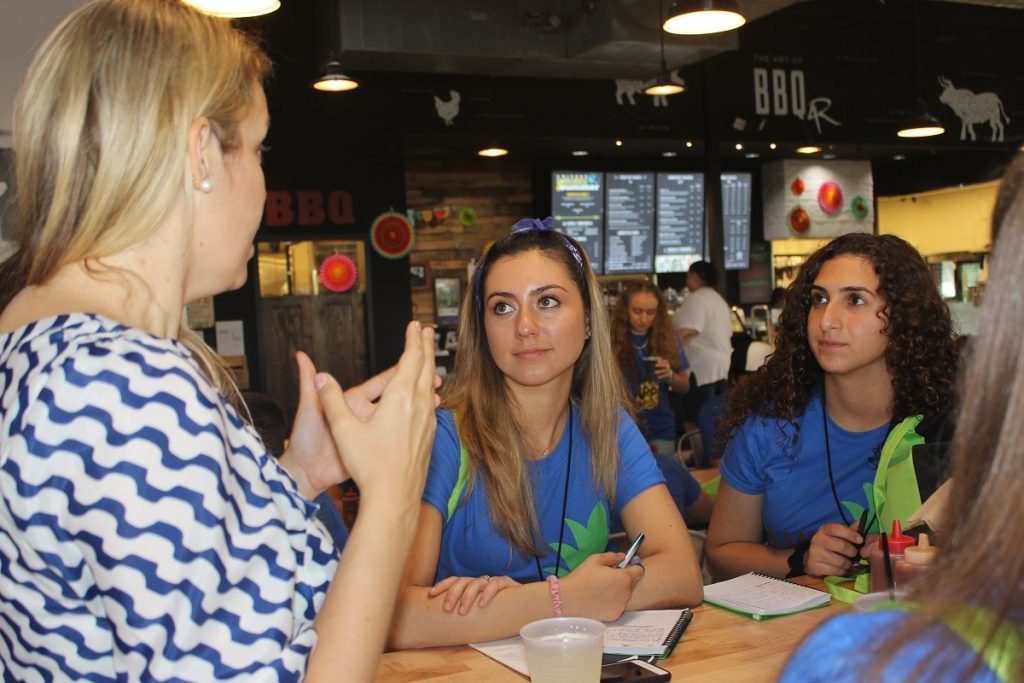 Industry partners will provide site visits and industry exploration opportunities for our Camp Pineapple campers. From various sectors of the hospitality industry – lodging, theme parks, restaurants, and entertainment venues, campers will learn about the hospitality industry from the experts.  See below for our list of site visit and supporting partners for 2020.
To learn about our 2018 and 2019 Partnerships check out the History Tab in the drop-down menu on the right side of this page.
Site Visit Partners 2020
ETP – Entertainment Technology Partners
Entertainment Technology Partners is a parent organization that assists like-minded companies compete with the changing market by using combined resources and allowing companies to still retain their individual identity. Entertainment Technology Partners helps brands grow their business in the events and entertainment industry by providing shared support in strategy, finance and logistics. This collection of exceptional brands includes LMG, Premier Event Technology, EventEQ, Pixl Evolution, Audio Evolution and the CoiL Learning Center.
Hyatt Regency Orlando
 Hyatt's purpose is "we care for people so they can be their best". This purpose guides every aspect of our business, from how we care for our people, communities, and planet, to how we source products and respect human rights. As Hyatt continues to grow, they don't lose sight of what's most important—people. Hyatt is a company that was built by family. It's a workplace where coworkers become friends. Every day we care for our guests. Care is at the heart of our business, and it's this distinct guest experience that makes Hyatt one of the world's best hospitality brands. As a global leader in hospitality, Hyatt knows that inclusion & diversity significantly enhances the quality of products and services we provide to our guests and colleagues. At Hyatt, we believe people drive change.
A stay at Hyatt Regency Orlando puts you near all major theme parks, steps from Pointe Orlando, and a short trolley ride from ICON Park—home to restaurants, funky bars, and more. You'll also enjoy Chef Alain's homemade treats, and our 6,500-square-foot fitness center and award-winning instructors make it easy to get a workout in.
United States Tennis Association (USTA) – National Campus
Located at Lake Nona in Orlando, Fla., the USTA National Campus serves as the "Home of American Tennis." The groundbreaking facility is designed to enhance the sport at every level and create an unparalleled playing, training, coaching and educational experience for recreational players, competitive players, coaches and spectators. The National Campus has 100 tennis courts spread across 64 magnificent acres offering unparalleled playing, training and educational experiences for recreational players, competitive players and coaches and spectators. These aren't your ordinary tennis courts – 20 Team USA/League Courts, 32 HarTru Courts, 16 Family Courts, 12 Collegiate Courts and 26 Smart Courts. The Welcome Center includes a Pro Shop & Racquet Bar and the Net Post Grill. More than 100 international, national and local events and tournaments took place at the facility in 2019, serving up a great experience for players, coaches and spectators.
Universal Orlando Resort
Universal Orlando Resort is the second-largest resort in Orlando, covering 451 acres of land. Universal Orlando consists of three theme parks – Universal Studios Florida and Universal's Island of Adventure plus the Volcano Bay water park; Universal City Walk, a night-time entertainment complex and eight Loews Hotels. The resort offers cutting edge attractions based on pop culture icons, Hollywood blockbuster films and hit television shows. Currently 25,000 Universal Orlando Team members create a world-class vacation destination for guests 365 days a year. Special events include Halloween Horror Nights, which celebrates its 30th Anniversary as the world's premier Halloween event. Universal's Mardi Gras brings the best of New Orleans to guests featuring Cajun cuisine, a special-themed parade and musical headliners keep guest entertained on select nights. Other events including Rock the Universe, Holidays at Universal and EVE at Universal City Walk.
A fourth theme park, Universal's Epic Universe will create an entirely new level of experience that will change theme park entertainment. When the new park opens on a new 750-acre site they will hire an additional 14,000 team members including professional technical, culinary and other specialized positions.
Supporting Partners 2020
Coca-Cola Beverages Florida, LLC
Coca-Cola Beverages Florida, LLC (Coke Florida) is a family-owned independent Coca-Cola bottler. Locally owned, locally managed, and locally operated, Coke Florida is dedicated to every community where we live, work, and play. The Coke Florida exclusive territory covers over 18 million consumers across 47 Florida counties. As the local Coca-Cola bottler, Coke Florida manufactures, sells and distributes over 600 products of The Coca-Cola Company and other partner companies including Monster Energy and BODYARMOR. Our commitment is not just to our consumers, customers and partners, it is also created though engagement around three Coke Florida community pillars: Sustainability, Economic Empowerment, and Education. Coke Florida was founded in 2015 and is headquartered in Tampa, Florida. For more information, please visit the company's website. Coca-Cola is also the official beverage company of the University of Central Florida. We proudly serve Coca-Cola products on our campuses.
Cracker Barrel
Travel on interstates almost anywhere in the United States and you'll see Cracker Barrel Old Country Stores as a place to grab a meal that feels like home and a place to shop that reminds guests of days gone by. Founded in 1969 by Dan Evins the company, headquartered in just outside of Music City (Nashville) in Lebanon, Tennessee has over 650 stores in 45 states. The name comes from a time when crackers used to be delivered to those old country stores in barrels, and people would congregate around them to discuss the news of the day – you could say the barrels were the original water coolers! The restaurant was meant to help people reconnect with friends and family over a good meal so Cracker Barrel was the perfect name! Each restaurant and store is decorated with approximately 1,000 authentic American artifacts including memorabilia and signage from around the country.
The restaurant serves 200 million biscuits, 160 million eggs and 135 million slices of bacon each year to 217 million guests. The Country Store sells 14 million thin sticks (hard candy) that total 1,104 miles of candy and 331,000 peg games each year. The company targets travelers with over 1,600 billboards across America to let everyone know they are always near and travelers account for 40% of their overall business. The company has recently opened a new fast casual concept, Holler & Dash, that has four locations in three states.
Publix
 Publix has grown from a single grocery store into the largest employee-owned grocery chain in the United States. Started by George Jenkins in 1930, Publix has always been about putting people first. George's philosophy was to treat employees and customers like family. The grocery store's employees have been trained to put the customers first. As a result, they have been named the number one supermarket year after year for customer satisfaction. Today, Publix has more than 1,100 supermarkets. The values and philosophies that George Jenkins established are still in place to this day and serve as their mission to be the premier quality food retailer in the world.