Spring Semester Wraps with Awards and Goodbyes
As the spring 2022 semester comes to a close, the faculty and staff at UCF Rosen College of Hospitality Management gathered together for a joint meeting on Friday, April 22, 2022, the first since the end of the fall 2021 semester. The Covid-19 pandemic reduced in-person gatherings on campus, but with health and safety protocols in place, and many folks vaccinated, the time was right to celebrate accomplishments and milestones.
Dean's Star Awards were presented to four faculty and staff members, Rick Florsheim, Gisele Canova, Dr. Ray Eddy and Edwina Norvelus.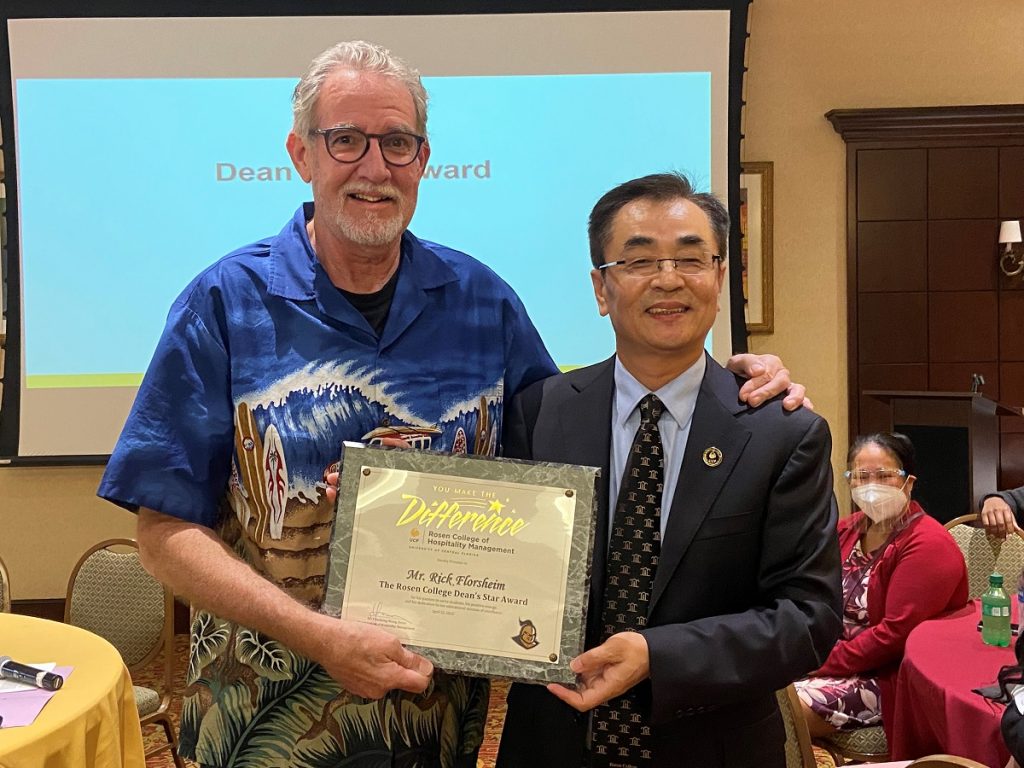 This is what was said about Rick Florsheim in the dean's nomination for the award:
Gentle and personable, this friend of ours never says no to hosting a Thanksgiving party, with all the food and fun to entertain large groups of party goers, so many you cannot count them with all your fingers and toes. Single-handedly preparing all the dishes from the mouthwatering appetizers to irresistible deserts, this friend is likely taking this tradition to another country across the ocean for this coming Thanksgiving. Students and faculty love him, not only for his food, but for his lifetime of industry experience and his education experience. He is passionate and caring, and he shows great  professionalism and dedication. Thank you very much for your contribution and dedication to Rosen College.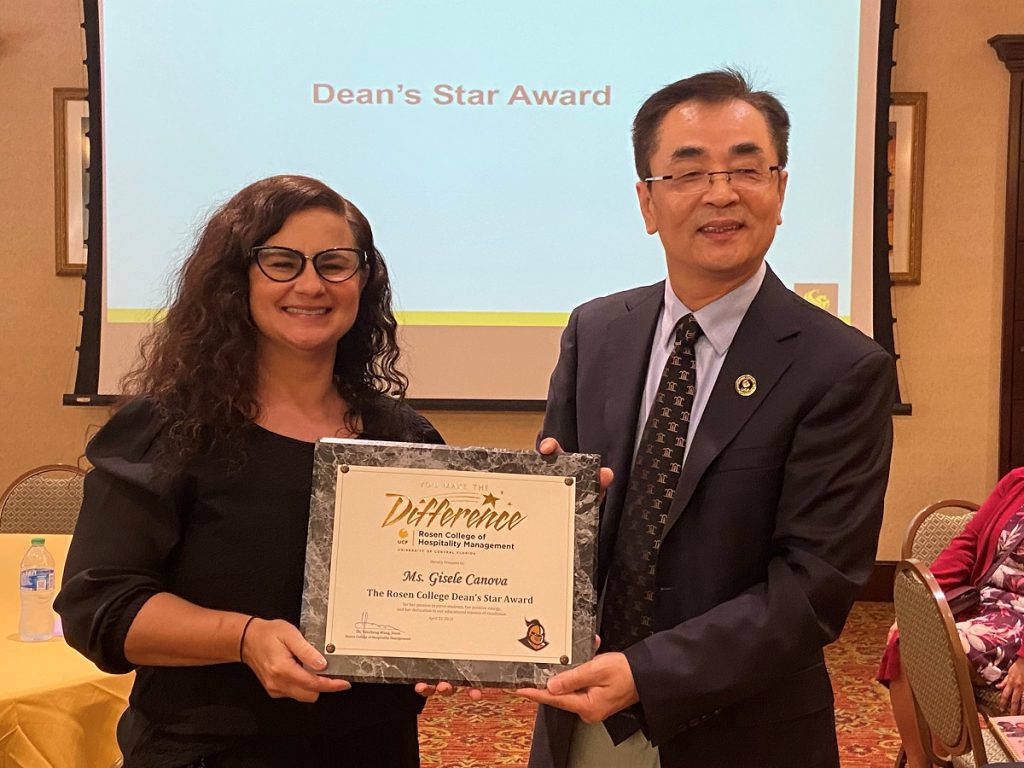 The nomination for Gisele Canova reads as follows:
This person is a super star in the internships department. She is innovative and creative and finds new ways to connect with the students and to deliver content in ways that the students understand. She took the PREP program and launched it to the next level. She took an overwhelming task on to try and find a better way to capture PREP hours and did it by creating a new system, utilizing Qualtrics and web courses. She then took it a step further and got an icon on the UCF App for a PREP button, making it easy for the students to submit and track their PREP hours. She also wrote a Course Redesign Grant and was awarded funds to assist in redesigning all online content for the internship courses. She is always available for the students, and for the employers and is a staple at all CFHLA Meet and Greets and industry events. Congratulations to Gisele Canova, a Deans Star Award recipient for April 2022.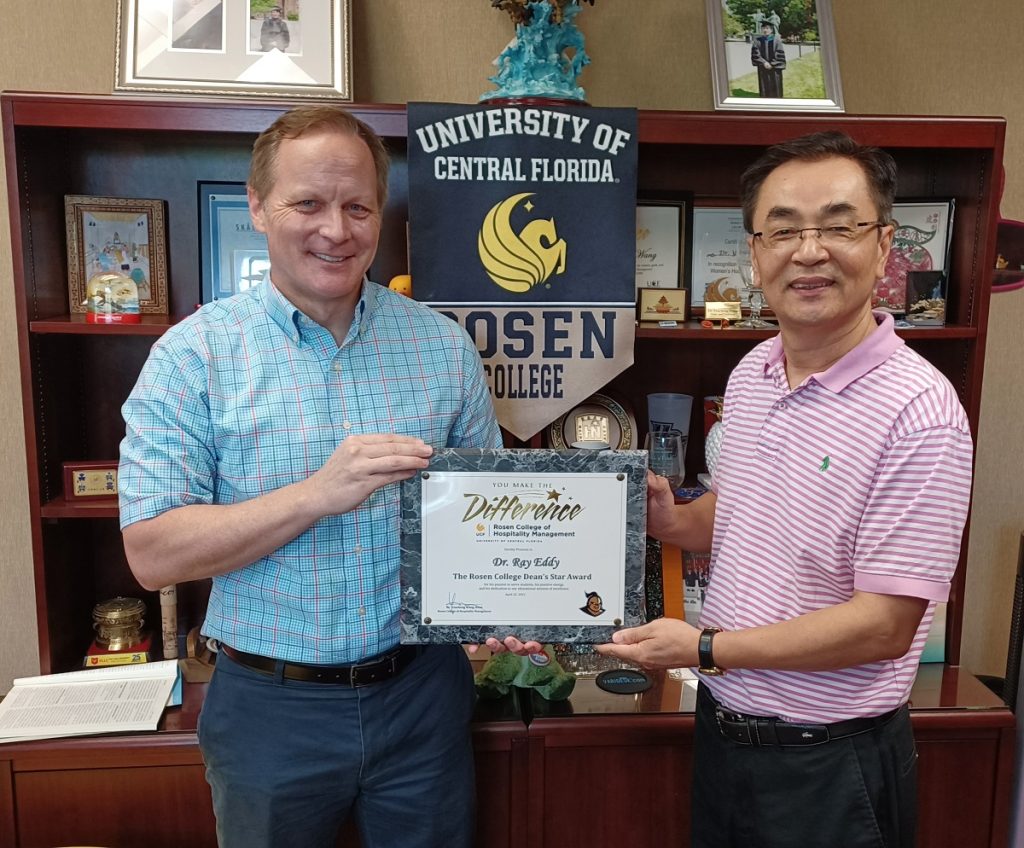 Dr. Ray Eddy, a popular professor, was recognized with these words:
In addition to his outstanding teaching and commitment to the development of his many student associations, Dr. Ray Eddy has been instrumental in developing the Entertainment Management Advisory Board and engineering its contributions to enhancing the ongoing success of the B.S. Entertainment Management program. Building on the excellent foundations laid by Ron Logan, Ray has expanded the breadth and depth of the Board; it now encompasses the full spectrum of various sectors that comprise the entertainment industry, with direct benefits for student engagement, internships, and future careers in the entertainment industry. Thank you, Ray!!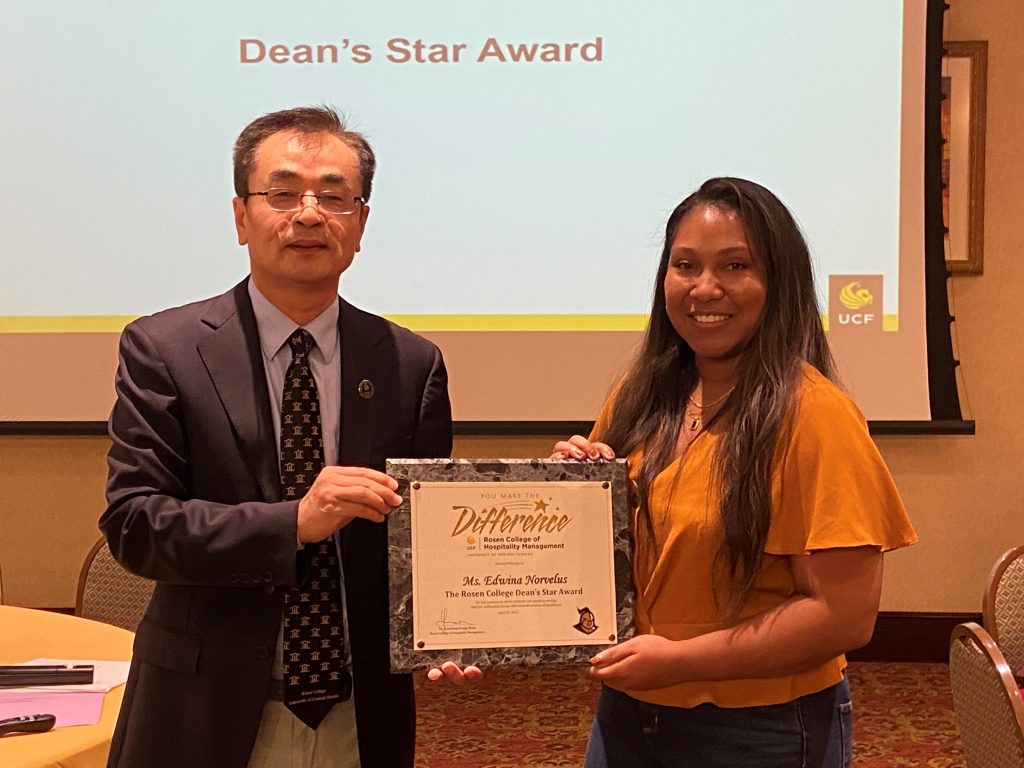 Student Services Assistant Director Edwina Norvelus, was appreciated with this statement:
This Dean's Star Award recipient is a motivated self-starter with proven drive, dedicated to our mission of professionalism, leadership and service. She is a shining star and champion for the success of our students. She was instrumental in ensuring we continued to provide exceptional service when we transitioned to a virtual environment, providing guidance for best practices to keep students engaged and informed. Recently the office of Student Services began receiving an unusually high volume of petitions requesting the acceptance of C minus grades. This individual immediately took the initiative to create a flyer and informational campaign slogan, "Not all C's Get Degrees!!!"  to make sure our students understand the impact of a C minus grade.
One of this month's Dean's Star Award recipient is Ms. Edwina Norvelus. It is my hope that the college will continue to benefit from her tenacity, strength of spirit, and her commitment to ensuring our students achieve their educational goals.
In addition to the Dean's Star Awards, Dr. Edwin Torres was recognized for his years of service to the college as he embarks on a new adventure in his teaching career.  Dr. Torres will be leaving the college for a position up north.  Dr. Cynthia Mejia was recognized for her leadership and years serving as Interim Department Chair for the Department of Foodservice and Lodging Management;  and we said goodbye to Rick Florsheim as he retires from teaching at UCF. effective May 7.